CSM provides colleges with a new strategy for college access and completion, focused on the skills that matter most for college success. CSM embeds college-level quantitative reasoning skills in a next-generation adaptive learning course which also builds independent learning skills, persistence, conscientiousness, and, most importantly, self-efficacy.
Because it is so deeply personalized, CSM is accessible to all students in colleges, as well as in partners such as high schools, adult literacy programs, and workforce programs. It can be shared across your community to provide a pipeline of students with key college math credit, the ability to learn independently, and belief in their own ability to succeed in college.
CSM builds
High Performance
College-level quantitative reasoning
Applied literacy
Active, independent learning
Persistence and self-reliance
Problem-solving strategies and mindset
Attention-to-detail and conscientiousness
Self-efficacy
The CSM Course
The CSM Course uses next-generation personalized learning technology to build cognitive, meta-cognitive, and non-cognitive High Performance characteristics.
CSM has been shown to be effective even with people with low math and literacy levels, but the High Performance skills it teaches are important for everyone, even those with college degrees
Learn more about the CSM Course
CSM is student success, and building confident, persistent, independent learners.
CSM is college-level quantitative reasoning, accessible to all students.
CSM is CTE training, with a focus on broadly applicable, practical math and literacy skills.
CSM is employability skills, aligned with key aspects of the Common Employability Skills Framework.
CSM is career development, building the skills of life-long career decision-making.
All rolled into one course.
Benefits
Builds a new pipeline of students who otherwise might be intimidated by college-level math
Provides a new form of partnership with feeder high schools and educational programs
Math credit and/or placement
Math is the greatest barrier to college for many students. Whether they place into developmental math or struggle in college-level math courses, math is intimidating and causes many people to decide college is not for them.
By transcripting CSM as a credit-bearing math course, you can expand your pipeline of incoming students who are confident with key college math credit under their belt. Because the CSM Course is highly personalized, and incorporates many interventions towards math fear and low confidence that many prospective college students face, it is accessible to many more students than traditional math courses.
Providing math credit and/or placement for the CSM Certificate provides a strong signal to feeder high schools and educational programs that the HIgh Performance taught by CSM is valuable to college success.
Benefits
Incorporates next-generation personalized learning into your curriculum
Delivers quick and effective embedded remediation
Includes free professional development for all instructors
Quantitative reasoning curriculum
The CSM Course can be incorporated into the curriculum as a quantitative reasoning course. CSMlearn provides free professional development to all instructors, who have access to the path breaking coaching Toolkit.
CSM can also be used as a co-requisite course for students who do not place into credit-bearing math courses.
Benefits
Builds key student success skills in an authentic learning environment
Strengthens Guided Pathways 101 courses by providing student success skills, career decision-making, and meeting or preparing students for quantitative reasoning requirements
Student Success/Guided Pathways
CSM builds persistence, independent learning skills, and self-efficacy, all of which are key for student success. In addition, the optional Career Strategies course builds the skill of life-long career decision making, focused on building assets through education and work, finding meaning and purpose in your job, and making forward-looking career decisions.
CSM can be incorporated as part of or as co-requisite to a Guided Pathways 101 course.
Benefits
Provides new offering for employability skills that meets key employer needs
Strengthens existing certificate programs by also certifying High Performance
Improves access to tuition assistance programs
Builds self-efficacy and college-level skills in workforce programs for a pipeline into credit-bearing programs
Workforce Solutions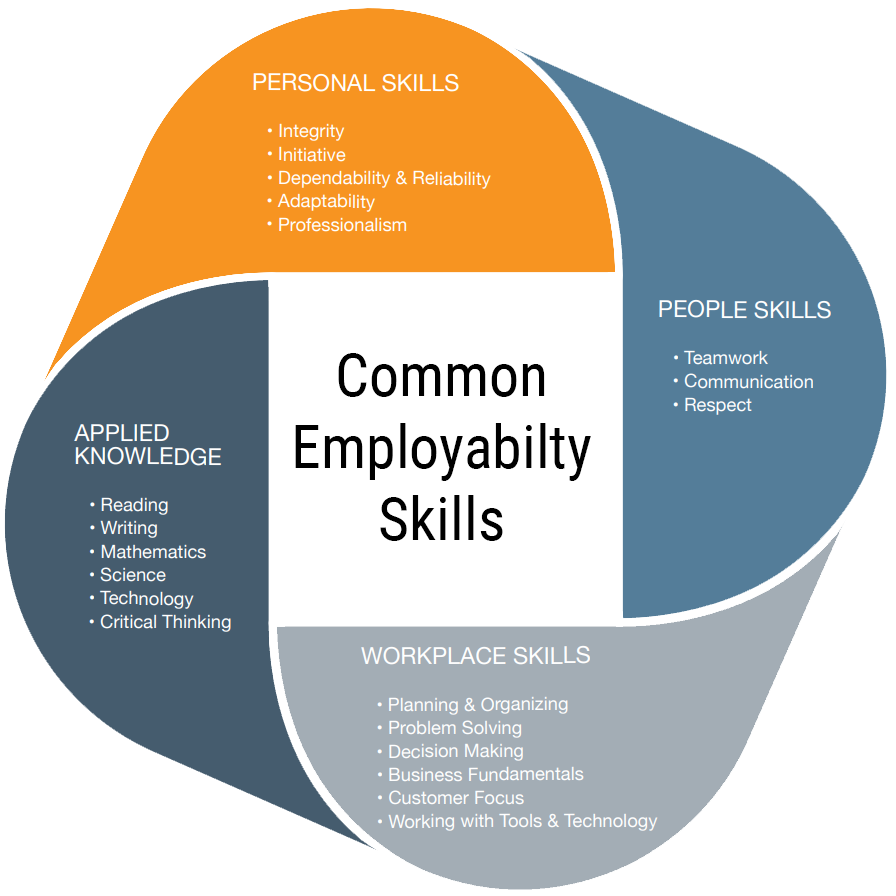 CSM can be a new offering that addresses employer needs for employabilty skills. CSM is aligned with key aspects of the Common Employability Skills Framework, which describes the fundamental skills that employees need in the workplace across sectors, business functions, and positions. It has been adopted by the National Network of Business and Industry Associations (NNBIA), which represents 75% of job growth in the United States.
The CSM Certificate can also be embedded in certificate or custom training programs to build and certify High Performance.
CSM is a gateway into tuition assistance programs. Employer tuition assistance programs are often underutilized because employees are afraid that they won't succeed in college, and are especially intimidated by math requirements.
CSM can be a pipeline from workforce programs into credit-bearing degree programs. Because CSM teaches both workforce-contextualized employability skills curriculum and college-level quantitative reasoning, students who enter a college in a non-credit workforce program can gain credits that also get them closer to a degree, while building the self-efficacy that will propel them into believing they can succeed in college
Learn more about CSM and employers
here
.
Learn More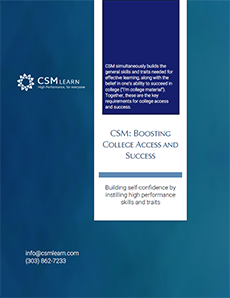 Click
here
to download a white paper on using CSM to boost college access and success.