What is
High Performance

?

High Performance is applying the most important math and literacy skills fluently, solving new problems, mastering new skills on your own, being persistent when things are hard, and expecting the best from yourself.
Who needs
High Performance

?

The better question is who doesn't? High Performance is what students need to thrive in school and college, and how employees succeed and grow in their careers.
The CSM Course - Intensely Personalized Education
Personalized for cognitive, meta-cognitive, and non-cognitive learning
Formatively assesses every answer and adapts to every student
Analyzes and responds to student attitudes and behaviors
CSM is a self-paced online course that builds High Performance, powered by next-generation adaptive learning technology. The CSM Course not only analyzes each student response to fashion a unique path through the skills, but also reacts to the way the student feels - their frustrations and focus, their struggles and successes.
The benefits of this new approach are that students are happier and more effective, there is no wasted time, and learning is deeper and more durable.
And the CSM Course is for everyone. The High Performance that it builds is as important for managers as for frontline workers, college graduates as for high school students. And CSM's personalization adapts to the needs of every student, whatever their needs or educational background.
Learn more about the CSM Course
The CSM Certificate - a New Type of Credential
The CSM Certificate is the first credential of general High Performance. It demonstrates to employers the characteristics that they value in all employees, and indicates to colleges those students who will thrive.
The skills and traits certified in the CSM Certificate are challenging even for college graduates, but the next-generation technology of the CSM Course means that it can be attained by students of ALL educational backgrounds.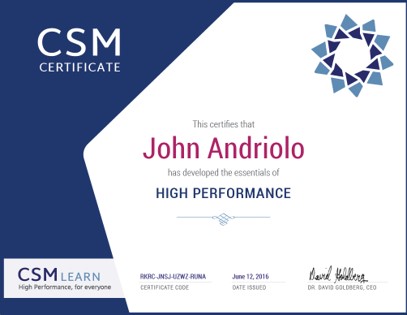 While most other certificates are only indicators of skills, CSM also certifies traits and behaviors and mindsets such as persistence, attention-to-detail and self-efficacy.
Learn more about CSM Certificate