The CSM Certificate shows you have the skills and traits that matter most in education and work
The CSM Certificate solves a key problem for employers - almost all credentials relate to job-specific skills, but what's really important is general performance characteristics that show that you'll do your job well, whatever it is.
For educational institutions, the CSM Certificate shows that students are ready to tackle difficult material with problem-solving skills and persistence.
Other credentials (welding, dental hygiene, accounting) generally indicate that a person has the minimum skills for adequate performance. By combining other credentials with the CSM Certificate, people can now show that they have the skills and traits to excel with
High Performance

in addition to the required job-specific skills.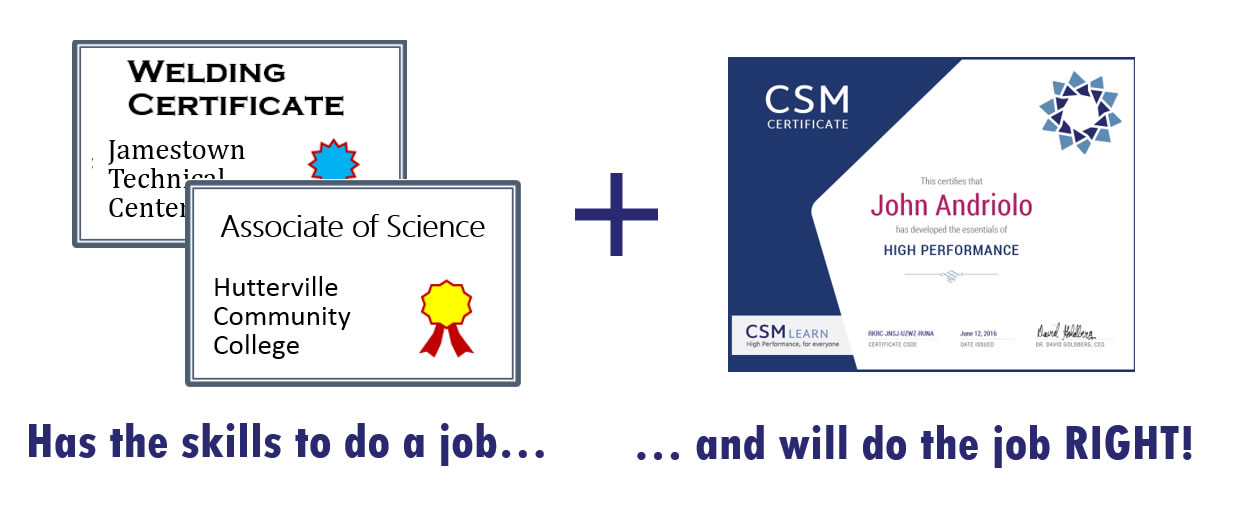 CSM certifies
High Performance
The CSM Certificate certifies the essentials of
High Performance

:

deep, fluent workplace math and literacy

»

problem-solving strategies

»

the ability to learn on your own

»

attention-to-detail

»

persistence and self-reliance

»

and most importantly, self-efficacy, the belief, founded in experience, that you can do what you set out to do.

Learn more about

High Performance
Uses of the CSM Certificate
For Employers
Skills upgrades and leadership development
CSM provides a novel approach to the High Performance skills and traits that improve productivity and engagement across all positions.
Hiring
Do you want your new hires to be ready to go on day one? You can indicate preference for the CSM Certificate or guarantee job interviews for CSM Certificate holders to provide a strong signal to individuals and local education and training programs of the value you place in CSM. This serves to build workforce skills in your community, and with minimal effort and cost to you.
For Education
Stackable and latticeable certificates
CSM can be used as a foundational or capstone certificate to demonstrate key performance skills and traits. Because High Performance is universal, it can be incorporated into almost any educational program.
Postsecondary admissions and placement
The learning agility, foundational math and literacy skills, and self-efficacy that CSM teaches are what students need to thrive in and complete college. In addition, communicating to feeder skills and programs that CSM Certificate holders will have advantages in placement and/or admissions will encourage them to adopt CSM themselves and improve the skills of your applicants.
Earning a CSM Certificate
You become eligible for the CSM Certificate on completing the CSM Course. The CSM Certificate is included in the Standard and Premium packages, and includes a framed certificate and lifetime biometric verification.
Learn more about the CSM Course