Get Up & Running with Virtual Learning - FAST
The CSM Course builds college-level math skills, with seamless deep remediation down to 5th grade math. It also boosts literacy skills, is aligned with key employability skills standards, and includes a novel approach to career guidance. All in a single course that is appropriate for secondary, adult, and postsecondary education.
CSMlearn is the world's leader in personalized learning technology, and the CSM Course is unique in simultaneously addressing academics, learning strategies, behaviors and mindsets.
CSMlearn provides free training in how to coach remotely, and the path-breaking Toolkit gives insights into the behaviors, learning strategies and mindsets of distance students.
If you're scrambling to transition quickly to remote learning, we can have you up and running quickly. Register for a webinar filled with information about CSM, applications and implementation, and Q&A. For urgent questions, email info@csmlearn.com or call (303) 862-7233
What is CSM?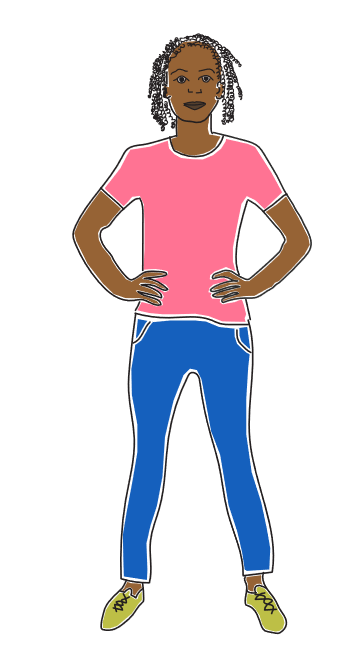 The self-paced, online CSM Course builds High Performers who:
have rock-solid college-level quantitative reasoning and applied literacy
can use their skills to solve real-world problems
learn new skills on their own
execute their skills with care and persistence while striving for excellence
enjoy well-earned self-confidence
The same CSM Course shows benefits to everyone, from adult education students with 4th grade literacy to corporate executives with postgraduate degrees! Different people need different skills, but the high performance competencies that enable them to thrive are remarkably similar.
College Credit
CSMlearn has articulation agreements for guaranteed acceptance of the CSM Certificate for college credit at many colleges, and even satisfies math general education requirments for some degrees. .
Students interested in attending colleges that do not have formal articulation agreements can send transcripts to any college or university for evaluation. The American Council on Education College Credit Recommendation Service (ACE CREDIT®) recommends that colleges accept the CSM Certificate as 3 semester hours of quantitative reasoning credit at the lower division baccalaureate level.

Learn more about gaining college credit for CSM.
Employability Skills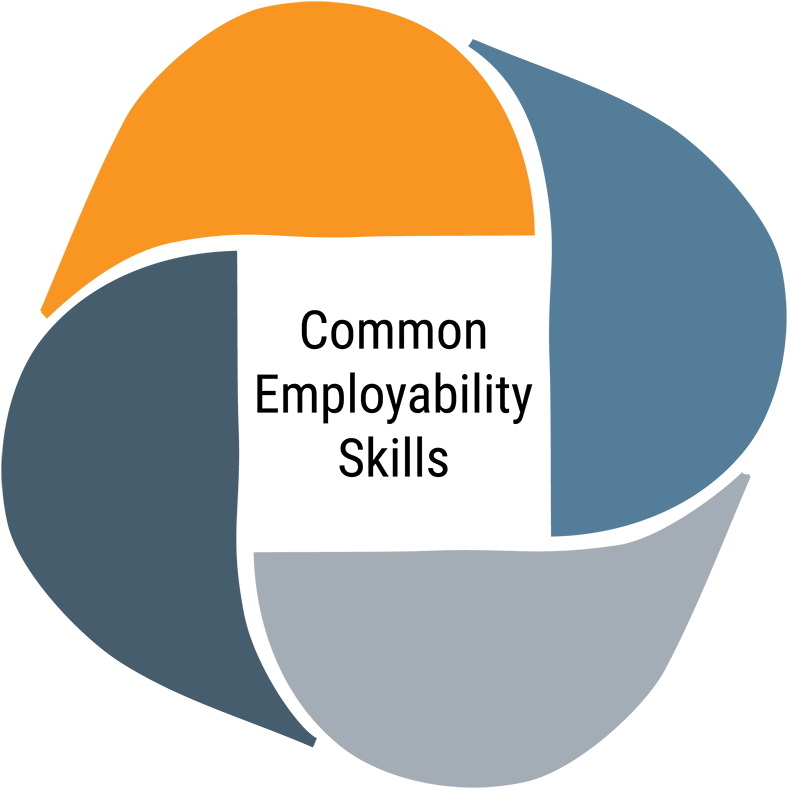 CSM is aligned with key aspects of the widely adopted Common Employability Skills Framework, which describes the fundamental skills that employees need in the workplace across sectors, business functions, and positions.
"The CSM High Performance course and certificate addresses a core set of the Common Employability Skills that is directly linked to high performance on the job. It focuses on individuals being their personal best: Caring about what they do, pushing through failure, having high expectations for themselves, and following through."
— Valerie Taylor, lead author of the Common Employability Skills Framework
Who is CSM for?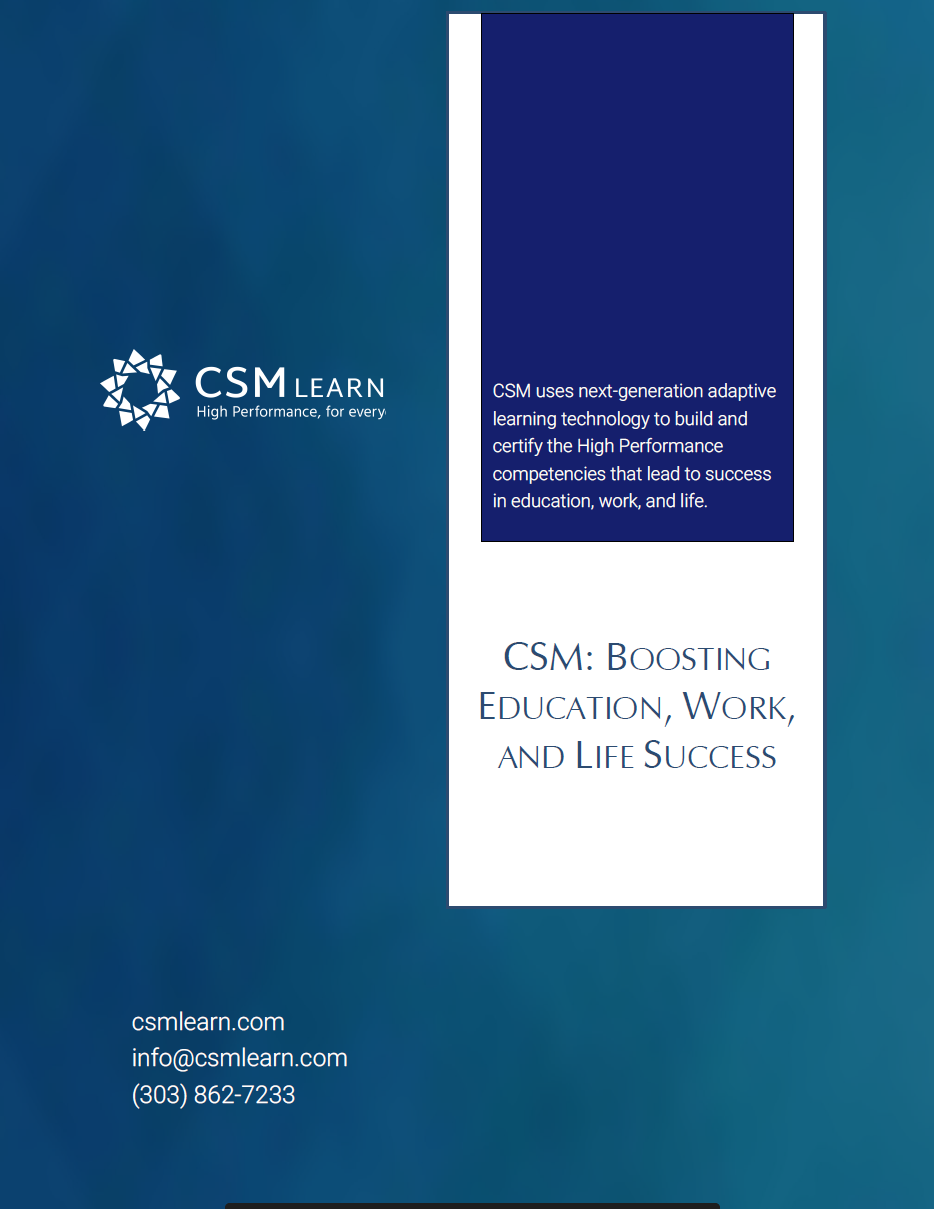 CSM can be broadly used across many programs, levels, and student goals, including:
Adult education: ASE, GED, advanced ESL, postsecondary and workforce preparation
High school: credit recovery; postsecondary and workforce readiness; CTE programs; math electives
College: developmental education; summer bridge programs; freshman experiences; first-year academic success courses; Guided Pathways 101 courses
Workforce development: summer youth employment programs; onramp programs; employability skills; apprenticeship programs
Employee upskilling: onboarding; general upskilling; promotion pathways
Because CSM adapts to each student's needs and strengths, it can be implemented across many of programs in your city, allowing economies of scale -- e.g. participants in many programs sharing classes and instructors. If you're looking to transition many programs and you want to keep it simple, you can choose CSM and know that all of your participants will be getting a relevant and highly personalized educational experience.
Next-Generation Personalized Learning Technology
CSM uses advanced adaptive learning technology for extraordinarily efficient and effective learning. Every student moves along a unique path of skills to keep them at their edge of knowledge where learning is most rapid. CSM instantly responds to specific errors made by the student to help them identify and then correct their mistakes.
CSM builds independent learning skills by asking students to choose from multiple types of instruction, and providing frequent feedback as to which types of instruction work better for them. Students also answer meta-cognitive questions to build students who reflect on their own learning process, and how to get what they need from the resources available.
CSM also incorporates a multitude of techniques from behavioral economics and social psychology to develop a mastery mindset, ability to deal with frustration, and deeply-rooted self-efficacy.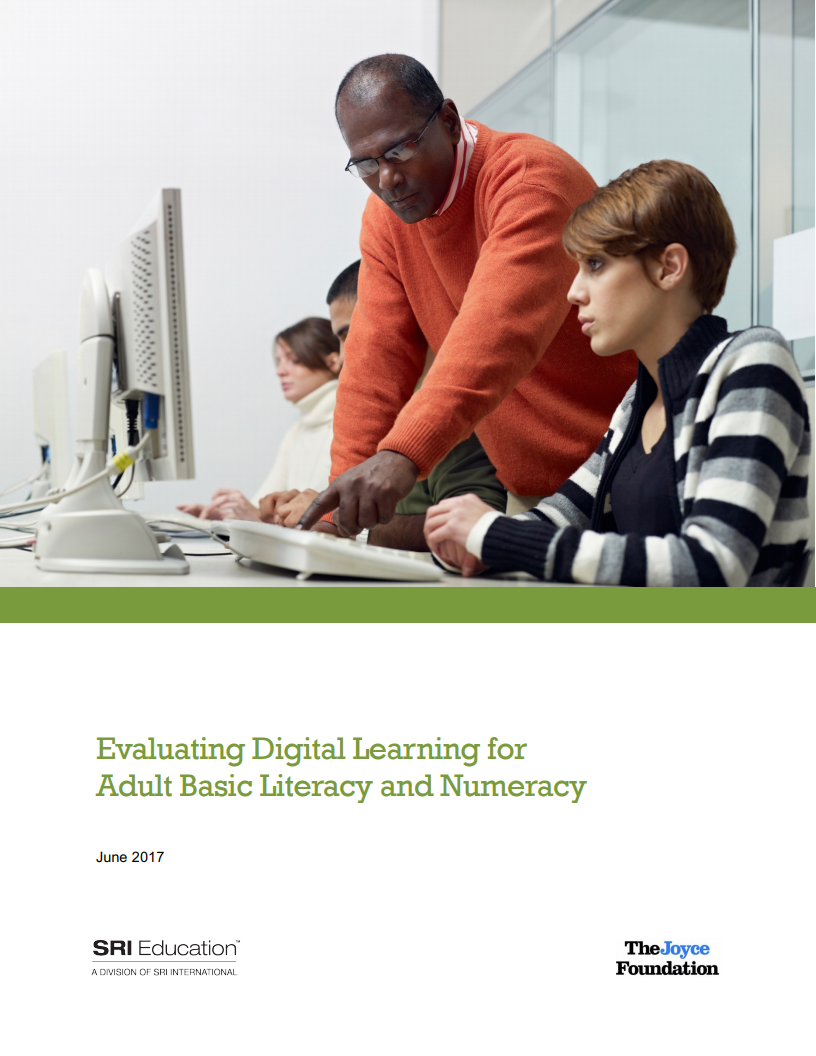 Evidence Based
Stanford Research Institute found CSM to be the most effective educational technology in adult education. Compared with MyFoundationsLab, GED Academy, Reading Horizons, and ALEKS, CSM had the largest math and literacy gains, and the highest student engagement.
Approved for Distance Learning
CSM is approved for distance learning hours in adult education in Colorado, Minnesota, Texas, and Georgia, and is used extensively in many other states. In an adult diploma program in Cleveland using CSM, 28% of CSM completers signed up for college, and 80% of those have graduated or have multi-semester persistence.
Industry Recognition
The Center for Energy Workforce Development has selected CSM as the preferred onboarding to energy industry training -- using CSM, energy utility PEPCO found passing rates on the industry-required assessment soar from 20% to 67%. CSMlearn is in advanced discussions with other industry associations.
Coaching and the Toolkit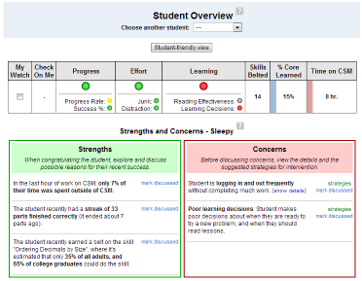 Remote coaching can be difficult. Without seeing their students in person, it is hard for coaches to know if the students are struggling, or even know who is working and needs your attention.
The CSM Toolkit provides unprecedented insights into ways students are working, and recalculates a deep pedagogical profile of each student every 10 minutes. This includes personalized areas of strength and concern for each student in their skill acquisition, learning strategies, effectiveness of learning, frustration and distraction. All strengths and concerns include on-the-spot professional development on probable causes of these behaviors, and suggested coaching strategies.
The Toolkit also includes a multitude of reporting features, including exportable weekly progress reports, reports on total skills learned per student, Completion Predictor graphs, and more.
Professional Development
Getting coaches up and ready with adequate professional development can be a key hurdle in rapid implementation of virtual learning. CSM offers the following FREE services:
High Performance Coaching course: New coaches work through the initial skills in CSM while getting instruction in CSM curriculum, pedagogy, the CSM Toolkit, how to run a CSM class, and more. Responses to short answer questions are evaluated by CSMlearn staff to ensure understanding of coaching best practices. This course takes 3-5 hours.
Toolkit Resources: The Toolkit embeds on-the-spot professional development with suggested interventions for every student, and also includes a repository of resources including student orientation videos, handouts, and lesson plans on topics such as encouraging effective learning decisions and how to deal with frustration.
Real-time support: Call or email CSMlearn at any time with any questions, including help with individual students or classes, Toolkit questions, or to brainstorm the most effective ways to implement CSM.
Straightforward Implementation
CSM is easy to set up and run, and for coaches to rapidly get trained. Your participants can be ready to start in a couple of days.
The only technology requirement is access to internet-connected device for each student. CSM is low bandwidth, and works well even with older technology.
Pricing
CSM costs $39/student, or $29 if your organization qualifies for our educational discount. The Toolkit, professional development, and implementation support is free.
Pricing details
CSM for Cities - an introduction
This webinar includes an introduction to the CSM Course, its application and implementation in cities, and a Q&A period.
Below are the available dates and times. If a session is full, you can still register to be added to the waitlist.
Register
Please enter a first name with just letters, spaces, dashes, periods, and apostrophes.
Please enter a last name with just letters, spaces, dashes, periods, and apostrophes.
Please enter a valid email address.
Please enter an organization between 6 and 64 characters long.