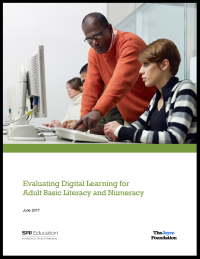 CSM Course shows results!
The Evaluating Digital Learning for Adult Basic Literacy and Numeracy study, funded by the Joyce Foundation and evaluated by SRI Education, evaluated the efficacy of five technologies in adult education: CSM, Reading Horizons Elevate (Reading Horizons), My Foundations Lab (Pearson), ALEKS (McGraw Hill), and GED Academy (Essential Education).
Of the five evaluated products, only CSM had significant positive impact on math scores, and CSM also had the highest improvement in literacy scores. CSM also had the highest engagement.
Click here to download the full report.
---
Return to news list